A New Technology: NFC (Near Field Communication) on Android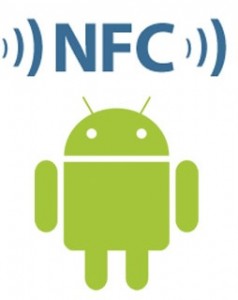 What is NFC?
NFC (Near Field Communication) on android is a standard based wireless connectivity appropriate for providing short range services. This technology is safe and also simple which provides two way communications. It is used mainly in the android mobile devices. The devices have to be at a distance of 10 centimeter for proper communication or data exchange. Near-field Communication Forum defined it which is a standard union of hardware, network-providers, banking, and companies of credit cards, software/application and others who take interest in the standardization and advancement of NFC.
How Does It Work?
It operates at the frequency of 13.56 mhz. and ranges from 106 Kbit/sec to 848 Kbit/sec. it requires an initiator and also a target. The initiator helps in generating RF field and a passive target is powered through it. Therefore, these targets take the forms of tags, cards and stickers as they hardly require power. Peer-to-peer interaction is also possible through NFC on android. Here, the devices should be powered. You must be thinking that wifi or Bluetooth perform the same task then what is the need of NFC?  The answer is less amount of bandwidth and shorter range is used by NFC. It is cheap, the targets are un-powered and you do not have to do the searching and pairing tasks. All you have to do is to tap it.
NFC Specifications:
There are many network related plans or packages which are provided by NFC on Android. Some of them are given below.
Package for data format is known as NDEF or NFC Data Exchange Format. It includes data format for tags and devices.

Package for record types which are used in the messages between tags/devices. They are known as RTD or NFC Record Type Definition.
Library for posters with text, tags, audio or other type of data. It is known as Smart Poster RTD.
Another NFC package known as java.nio exists. It includes certain buffers which are of some particular data type. When the end points are java based (android devices), this package makes the communication process easy and handy.
The records having plain text use Text RTD package.
The records having references related to any internet source uses URI or Uniform Resource Identifier.
The above explanation described the ways used by Android to handle the tags of NFC. Further, it also notifies the applications which ever is relevant to the application. Therefore, it can be said that NFC on Android is the standard which is used by the smart phones and other mobile devices to make the radio communication possible. You have to get the phones closer to each other.
By: Vipin Jain
About Vipin Jain
Vipin Jain
(CEO / Founder of Konstant Infosolutions Pvt. Ltd.)
Mobile App Provider
(A Division of Konstant Infosolutions Pvt. Ltd.) has an exceptional team of highly experienced & dedicated mobile application and mobile website developers, business analysts and service personnels, effectively translating your business goals into a technical specification and online strategy.
Read More
View all posts by Vipin Jain
Recent Posts
Archives
Categories