In App Billing For Android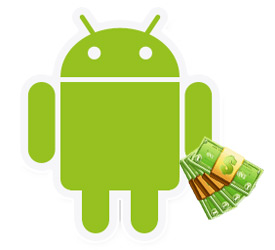 Google play was the first to introduce In App Billing for Android feature. This exciting feature helps you to put the digital content of your application into the market for sale. The users who use in-app billing will make income or profit through applications which are available free of cost. In app-billing can be referred as a place where you can find various income sources. With the discovery of this feature, the user is free to sell his application content whether it would be an audio file, video file or any other downloaded file or content.
There are two ways through which a user can sell products from his application:
Standard (single billing)
Subscriptions (bill generated for a definite interval of time)
In App Billing for Android is supported by Google Play and hence all the transactions details and check outs made by the user to buy or sell a product will be handled by the Google Play. There is no need for registration or any type of account to publish your application for in-app billing. Rather, you may require a developer console account in order to apply in In-App Billing for Android feature to your application. For the new users, there is an additional feature which helps and demonstrates the users by providing a trial application to launch their applications and sell the related products. The Android software development kit helps user to use all these tools in app billing.
In-app billing recently launched its version 3 which includes many new features which helped to make in-app billing a flexible and a powerful tool to host applications. Some of these features are as follows:
In new design, it will be easier for a user to write and maintain the application. User can easily detect the error and can debug it when required.
Before, many users used to write number of lines as a source code but in advanced feature codes is reduced as compared to earlier one.
In the earlier versions of in app billing, transactions made were lost frequently but now, robustness is added to the new version to avoid it.
Caching memory will be handled at a remote server so that rapid calls can be made for the application program interface. All the details about the product can be obtained. Any doubt related to the product can be cleared here. This will help the users and thus, they can get a better experience through in-app billing.
In the advanced version of In App Billing for Android billing, keys are managed on application basis. Earlier the developers were responsible for the keys. For every application, the service keys are different.
By: Vipin Jain
About Vipin Jain
Vipin Jain
(CEO / Founder of Konstant Infosolutions Pvt. Ltd.)
Mobile App Provider
(A Division of Konstant Infosolutions Pvt. Ltd.) has an exceptional team of highly experienced & dedicated mobile application and mobile website developers, business analysts and service personnels, effectively translating your business goals into a technical specification and online strategy.
Read More
View all posts by Vipin Jain
Recent Posts
Archives
Categories