All you need to Know to Build an On-demand Fuel Delivery Services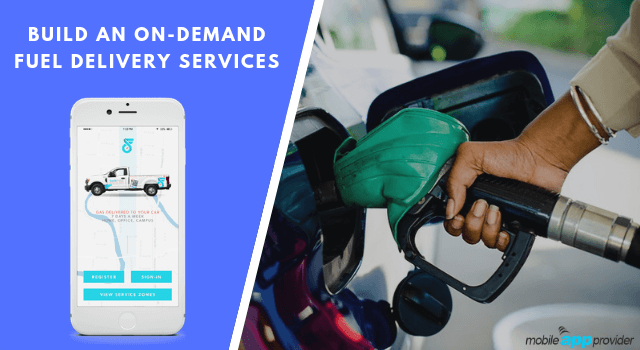 If you have a smartphone on you at the moment, there are few things you can't access with a few taps. That's the power of mobility. Not only has it created a whole new digital economy but as also transformed the traditional industries unimaginable just a few years ago. One of such transformations is the doorstep fuel delivery.
With such startups popping up all across the globe, on-demand fuel delivery seems to be the next big trend that would change the shape of personal mobility. But for you as an entrepreneur, is that a good business proposition? And even more importantly, how do you start your own on-demand fuel delivery app? Let's find all the answers:
The Business Potential
The basic rule of building any business dictates that the entrepreneurs must test their ideas two key benchmarks:
1. Value creation
This includes considerations like what value it offers to consumers. Does it solve any problem? Does it improve the user experience? Basically, it accesses the idea from the consumer's point of view.
2. Is the business feasible?
Not all products or services valuable for consumers are necessarily good for businesses as well. The second step is to test the feasibility of the product or service as a business. This includes considerations like competition, market saturation, operational challenges, cost, among others.
Value
On-demand fuel delivery apps create value for consumers in three distinct ways:
   It saves time they would otherwise waste at fuel pumps
   It serves as an emergency lifeline if they are stuck somewhere with no fuel stations around.
   It ensures consumers of the quality of fuel they receive.
Feasibility
Everyone with an automobile is a potential consumer
The market is still nascent with little competition
The entry barrier is relatively low with the cost of the on-demand app and operational expenses being the only capital required.
Now that we have seen how the idea of on-demand fuel delivery ticks all the right boxes, let's dive deeper into a few of the specifics that you must not forget while building such apps:
Geolocation
The first requisite of on-demand fuel delivery app is the ability to detect the user's location. Since the vehicle may be parked anywhere or the user's may be stranded on a highway, the service must have both the facilities of entering the location manually as well as auto-detection.
Request forms
The users should be presented with a simple form to request the services they need. This would include details like fuel type, quantity, additional add-ons, and more.
Payments
A good rule of thumb is to add as many payments options as possible including all the popular ones of the area. While the standard payments like cash and card would suffice for normal conditions- like servicing at home, mobile payments are highly preferred in emergency cases. So make sure you cover the entire base in terms of payments.
Tracking
This is again a standard feature for almost ever on-demand service. It isn't enough for consumers to just place the orders but they must also be fully aware of when they would be serviced and notified of any changes. This is best possible by enabling live tracking feature that only bring transparency but also serves as a benchmark for your internal operations.
Closing remarks
On-demand fuel delivery app is currently a very lucrative business with minimal competition. The sooner you get started, the better the position you would be in when the competition heats up. There are plenty of on-demand app developers who can give shape to your business and have you ready to open shop in a matter of weeks. Hire them now!
About Vipin Jain
Vipin Jain
(CEO / Founder of Konstant Infosolutions Pvt. Ltd.)
Mobile App Provider
(A Division of Konstant Infosolutions Pvt. Ltd.) has an exceptional team of highly experienced & dedicated mobile application and mobile website developers, business analysts and service personnels, effectively translating your business goals into a technical specification and online strategy.
Read More
View all posts by Vipin Jain
Recent Posts
Archives
Categories