What is the Cost of Building a Cryptocurrency Exchange Application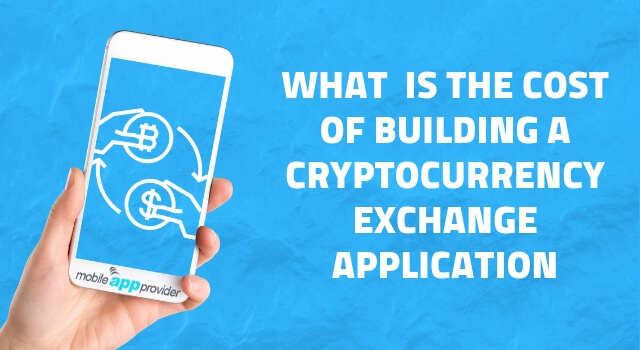 Cryptocurrency, a global phenomenon known to most people, is a form of digital currency that uses cryptography to secure online money transfers, information and communications. It is one of the most talked about topics on the Internet today and is often regarded as the money of the future. It can't be counterfeited. Cryptocurrency systems are decentralized and operate on a peer-to-peer network.
Transactions done through cryptocurrency wallet are not only secure but are cheaper than transactions done using national currencies. This is something that allure companies, banks, governments, startups and individuals to research more about cryptocurrency than ever. Because it is believed that at some point, Ethereum, Bitcoin and Litecoin will be used just like Dollars, Pounds and Euros.
People have already started to focus on cryptocurrencies in the hope to make big money in the coming years. No wonder, cryptocurrencies are thriving and there are a lot of opportunities for miners and traders in the future and most importantly, for startups to get a foothold in this new and a lucrative market.
So, how is it like creating a Cryptography Exchange Application?
The cheaper and quicker money transfer is making people look forward to cryptocurrency. And with the rate at which the number of people moving in this direction is tremendous, it would only be a matter of time when Ethereum and Bitcoin will be used by the masses. At this stage, rewards are not huge, but a few years down the line, they are likely to skyrocket. Users will require cryptocurrency exchange mobile apps to do the needful. This is where top app development companies come in the picture. They'll be in demand for building such exchange apps for quicker, secure and affordable cryptography transactions.
A cryptocurrency exchange app would make transferring money in cryptocurrency easier and faster, thereby converting Bitcoins into national currencies of your choice.
How does a cryptocurrency exchange application work?
To start off, it requires you to get registered with the system that'll create an individual cryptocurrency wallet for you where you can store Bitcoins as well as other currencies for further processing.
Whenever you receive a money transfer request, you'll be notified by the system where you need to initiate the transaction. Once you do it, the money will get credited to your wallet on the server side. Then you'd be asked to select the bank and the currency it will be processed in.
The user involvement was only up to this step. Whatever happens next is done by the system automatically and on the server side. The system accepts the cryptocurrency and purchases its equivalent amount of foreign currency. Finally, the funds in the natural currency of choice get credited to your selected bank account.
For the transfer to be successful, the user needs to confirm and designate the wallet to the account from where the money is transferred. A cryptocurrency exchange app should have the following features –
• User account creation
• Wallet management
• Handle deposit requests
• Send money requests
• Cryptocurrency management i.e. cryptocurrency into natural currency using proxy APIs
• Management of bank accounts
There will be an API at the backend for handling exchange requests and a UX for users to register, track and transfer money through cryptocurrency.
How much does it cost to build cryptocurrency exchange app?
For the task, you'd require a team of skilled developers, quality analysts and a project manager. It is estimated that building such an app will need around six months. This will require talented and certified human resources and of course, for the maintenance staff thereafter.
Getting the app built in the US will cost you a bomb whereas if you outsource it to any of the mobile app development companies in India or China or Europe, the app development costs will plunge drastically.
Hiring a team of one iOS developer, one Android developer, one front-end designer, one graphic designer, one quality analyst, one manager and one backend developer in the US will cost you approximately $4,00,000– considering the app is built in six months and professionals were hired on an hourly basis.
On the other hand, the cost of app development in sub-continent nations is almost a half of it and the quality that they provide to their clients is phenomenal. For the same task, Indian app developers will charge you anywhere between $1,00,000 to $2,00,000 depending on company's reputation, portfolio, experience and response rate.
Final words
The cryptocurrency market is still very new and open for exploration. However, its recent popularity suggests that it will continue to grow and attract more business houses and startups. If you are also willing to take that initial step forward towards innovation and to build a cryptocurrency exchange app for the present and the future, then we are here to assist you. Reach us to discuss project's requirements and get your business going.
About Vipin Jain
Vipin Jain
(CEO / Founder of Konstant Infosolutions Pvt. Ltd.)
Mobile App Provider
(A Division of Konstant Infosolutions Pvt. Ltd.) has an exceptional team of highly experienced & dedicated mobile application and mobile website developers, business analysts and service personnels, effectively translating your business goals into a technical specification and online strategy.
Read More
View all posts by Vipin Jain
Recent Posts
Archives
Categories