In-House versus Outsourced Mobile App Development Team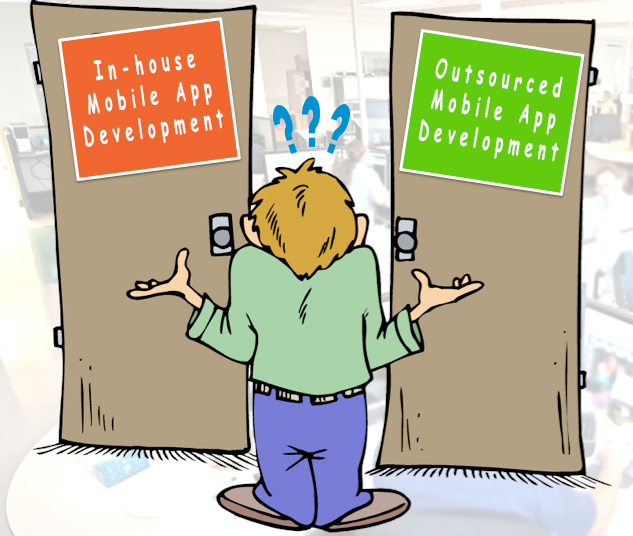 Apps are ubiquitous– there are apps for virtually anything you can imagine. If you require an app, the idea of developing your own app might sound the most desirable, but there are often reasons to not do such. This article will weigh whether it is best for you to undergo mobile app development with an in-house team, or outsource the work to an experienced app developer company.
Usually, it can be a better idea to pay a developer, but this is not limited and depends upon your own competencies, the level of control you want to have upon your app, and other critical factors.
For Outsourcing: So You Won't Give Up–
App development should start with an evaluation of all that you need in order to be successful. User experiences, along with things that will keep users using the app, are imperative. For mobile app development, you should make a blueprint of the features your app will have. This applies whether you are the mobile app developer or not.
Nevertheless, a reason to hire an outside mobile app developer is because mobile apps involve many competencies that might make a team normally ultimately throw in the towel and give up. These include: coding, testing, user experience design, planning releases and listening to and implementing user feedback.
For In-House: Expensive Otherwise–
Disadvantage of hiring an outside team to make your app is that it can be very expensive. Additionally, you are not retaining the talent, and are dependent upon the outside developer. Having all of your talent on-board, in one specific place, can make it easier to regulate quality and productivity. With this being said, it is hard to hire the talent on a wage-basis to support your firm's needs oftentimes, thus making a counter argument for outsourcing.
For Outsourcing: Past Experience–
To once again emphasize experience, outside app development firms usually have a vast library of past experience, which allows them to minimize mistakes. They typically understand mobile security in-depth and have tested approaches to QA. This effect can be dampened by having quality team members with previous experience, but once again, this costs money you may not have.
Outside mobile development teams can be better if there's a chance of an important member getting ill, or if there needs to be a lot of work done in a short period of time. Hiring to build your app also frees up more time for you to be able to spend on doing the "heavy" work– such as advertising, customer acquisition, retention, etc.
And don't feel incompetent or anything about outsourcing– The Weather Channel, a huge presence in the app market with over 90 million downloads, outsourced from 2000 to 2009. In other words, if you decide to outsource, you're not alone.
About Vipin Jain
Vipin Jain
(CEO / Founder of Konstant Infosolutions Pvt. Ltd.)
Mobile App Provider
(A Division of Konstant Infosolutions Pvt. Ltd.) has an exceptional team of highly experienced & dedicated mobile application and mobile website developers, business analysts and service personnels, effectively translating your business goals into a technical specification and online strategy.
Read More
View all posts by Vipin Jain
Recent Posts
Archives
Categories