Mobile App Testing: NO Is Not the Option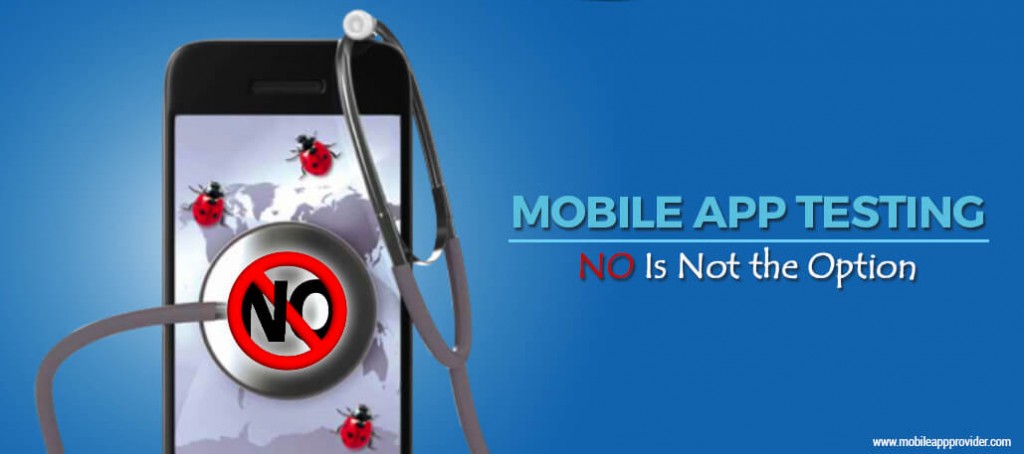 Believe it, apps are a tricky thing to make. No matter how talented developers you have, even a missing semicolon has the potential to bring your app, and with it, your reputation crashing down to the ground.
And again, developers can take you only so far, after which it is the Quality Assurance (QA) team that analyzes what's working and what's not. While there is no such thing as a "bug-free" application, the mantra for creating a functional and efficient mobile app should be-"it's not as much about how well you start, but how great you end up is what really counts."
This does not mean that developers get a pass to write sloppy code but emphasizes on the fact that app development is more of an iterative effort than a linear process.
Contrary to developers, who need to figure out just one way to create a perfectly working app, the people from quality assurance face a bigger challenge- getting deep into the minds of millions of users and behave like them understanding how they would interact with the app, understand what could entice them and what not, and thus, identify any lags or bugs they might otherwise encounter.
The typical procedure for testing apps goes one out of these two ways:
When the development team is done with coding, the app then goes in the hands of testing team, who after analyzing, send the product back with detailed reports of bugs found. The process continues until the testing team finds no more bugs. The app is then approved for release.
There are some app development firms that outsource the testing part to another organization. While the process, in this case, remains similar to the one discussed, the difference lies in the communication and varying priorities. When you particularly outsource testing of the app, it's difficult to manage and take follow ups from as there is a lot of communication gap. Also, it has been observed that companies/freelancers who only take care of the quality testing are not that mature and duty-bound.
While both these approaches do offer satisfactory results, there is no denying that they also drain considerable time and resources in the process. One fundamental limitation from which both of these approaches suffer is that they are designed to catch bugs only after all the modules and files are bred together.
Before we get into the ideal practices of app testing, let's first establish what it really aims to achieve. App testing largely focuses on these two aspects:
1. Functionality– It includes testing the app for tasks that it was supposed to do. Additionally, its look and behavior on target devices are also evaluated.
2. Bugs & Lags- It includes testing the app for tasks that it wasn't supposed to do. Creating adverse conditions and introducing anomalies is what this approach does to test the stability of the app.
While testing the functionality of any app is a relatively simpler task and there is little to do if developed by seasoned developers, it is the searching of lags and bugs that consume most of the time and effort of QA team.
Going back to the ideal practices, anyone who is remotely aware of the mechanism of app development knows that- every app, no matter how simple, consists of a host of different modules, which when interact, create the functional app we all love. Now imagine that one of the module developers used for the app was erroneous, which after interacting with other modules raised a host of different exceptions, and by the time it reached the QA team, tracing all those errors back to this one single bug totally screwed you up. If only the developers and QA team had been working closely and followed the approach of unit testing, such instances could be eliminated and thus, saved a lot of time and resources.
Apart from bugs, which do annoy users and hampers brand image, surveys have indicated that it is actually the "easy-to-use features" that attract and retain most users- as much as 79%. Also, if your app takes more than 6 seconds to load, most users are likely to never use it again! With such high expectations and equally rewarding targets, it is also the job of the QA team to ensure:
The app layout is intuitive and easy to grasp.
All the features are easily accessible and everything is clutter-free.
The app swiftly adjusts to various screen sizes and other hardware constraints.
And the most important- it efficiently does what it is expected to do at a faster speed.
To achieve these varying goals, QA team must also resort to various approaches. While traditional methods of using emulators is a good start, more extensive testing on real devices is a must to grasp the full extent of performance and user experience.
Testing for security
Though it came late into the picture of app development, security is now the second largest factor that determines the loyalty of consumers to an app- as much as 69%. With the users getting aware of security flaws, the onus of making an app secure also falls on the QA team. Especially if your app deals with online transactions and/or collects personal sensitive information, even a slight mistake can not only cost your credibility but can also land you into a lot of troubles.
From risk analysis and assessment to creating their counter-measures, your app must go through the entire process to ensure the users can trust it with their personal information.
To conclude, testing an app requires as much creativity as developing it, if not more. Conventional testing methodologies can only help you identify conventional bugs, which is not nearly enough in this age of competition. What you need is a robust, fast, and secure application that provides a smoother success path.
About Vipin Jain
Vipin Jain
(CEO / Founder of Konstant Infosolutions Pvt. Ltd.)
Mobile App Provider
(A Division of Konstant Infosolutions Pvt. Ltd.) has an exceptional team of highly experienced & dedicated mobile application and mobile website developers, business analysts and service personnels, effectively translating your business goals into a technical specification and online strategy.
Read More
View all posts by Vipin Jain
Recent Posts
Archives
Categories