Most Wallet App Startups Fail- Here is Why and Your Guide to Success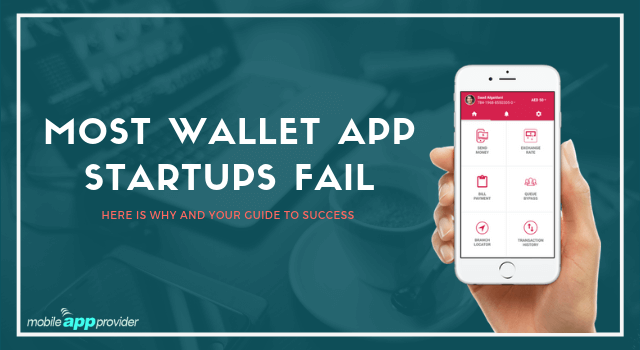 In the last few years, we have seen some outstanding growth and innovation in the fintech sector particularly in consumer-based products. And while they have had their fair share of successes and failures, one particular product has been till now too cryptic for most businesses to crack- mobile wallets. There are markets like China, Kenya, Norway, among others where mobile wallets have been immensely successful but at the same time, there are also markets like the US, Canada, and even Japan where their adoption can be termed mediocre at best.
That brings us to our core question- why is it exactly that disproportionately high number of mobile wallet apps fail? Is there something inherently wrong with the concept of mobile wallets itself? Or is it due to the mistakes of wallet app startups? We'll try and probe each of those angles and attempt to set the ground rules for what it takes to create a successful mobile wallet app. For the sake of relevance, we'll assume you already know what mobile wallets are.
Why mobile wallets?
The utility of mobile wallets can be understood on two levels:
Convenience
Beside mobile payments, there are basically two ways you can transact for everyday purchases- cash or plastic money like credit or debit cards (cheque and escrow do not quality for everyday purchases). Now if you have ever scrambled for change or your card declined, you would know they are both quite inefficient. Also, if you factor in the overhead of always having to carry them physically, they really seem out of sync with the current digital age. After all, you may often forget your wallet but how often do you forget your phone?
Use cases
In general, cash is preferred for low-value transactions while cards are deemed more suitable for medium to high-value transactions. Mobile wallets, on the other hand, are suited for the full spectrum of transactions thus offering a unified experience.
What these two factors prove is that there is nothing inherently wrong with the concept of mobile wallets but failures are solely due to the mistakes wallet applications make. Keeping that in mind, here are three of the most common mistakes or oversights of startups that if you create a mobile wallet app must not repeat:
Learning curve
Just because everyone uses mobile apps, most startups misleadingly conclude that they would be comfortable with mobile wallets as well. The fact is, people have been transacting with cash all their life and even plastic cards have been around for decades while they have been using mobile apps for only a couple of years. This creates a sort of inertia in user behavior that you must factor in. yes, you can promote your app through offers and cashback but they are only short-term solutions. You need to put in place an incentivization model where long-term commitment is rewarded that would ultimately shift their behavior.
More than just a wallet
Another grave mistake that most such applications make is that they market their product as a mobile wallet- which it is, but doesn't quite present the whole picture. Most such applications have many more features like payments P2P transfers, etc. So instead of presenting these apps just as a mobile wallet, they should be marketed as a bouquet of financial solutions.
Security
People, in general, are skeptical with using new financial tools and given the menace of bank frauds, card skimming, etc. they can't be said to be paranoid. Most startups assume that since users already use their cards for online transactions, they shouldn't have any issues doing the same on their app. This is an entirely misplaced notion. People may have come to trust online transactions but that trust isn't extended to facilitator apps. What you need is to build trust from scratch by portraying numerous security-related features.
Closing remarks
Given the considerable cost of mobile wallet app development, failure isn't just about the lost opportunity but also significant financial loss. And while a good business strategy is to always learn from one's mistake, the best strategy remains to never commit one. So if you aggregate all the mistakes of failed wallet app startups and actively avoid them, you might just have a recipe for a successful mobile wallet app.
About Vipin Jain
Vipin Jain
(CEO / Founder of Konstant Infosolutions Pvt. Ltd.)
Mobile App Provider
(A Division of Konstant Infosolutions Pvt. Ltd.) has an exceptional team of highly experienced & dedicated mobile application and mobile website developers, business analysts and service personnels, effectively translating your business goals into a technical specification and online strategy.
Read More
View all posts by Vipin Jain
Recent Posts
Archives
Categories