Porting Android App to iOS? Don't Forget These 5 Factors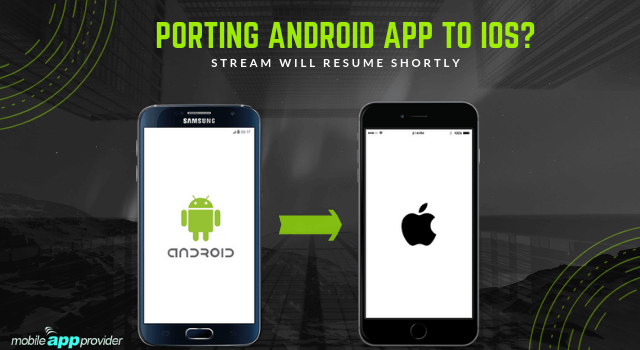 iOS and Android are the two most popular mobile platforms that virtually run a duopoly in the smartphone industry. Though we won't get into the details here, there is one crucial factor worth that's quite relevant for our discussion. From the developer's point of view, both of these platforms have entirely different USPs- while iOS promises higher ROI, Android account for a large user base. That is the reason most of the applications are first launched on iOS and later ported on to the Android. If you are in such a transition phase, here is all you would need to take care of:
1. Redesign UI components
iOS apps are designed on Cupertino guidelines that tend to be flat and light on animations. The Android apps, however, use what is called Material design that creates an illusion of depth and makes moderate to extensive use of animations. Given this vast difference, you can't simply port your iOS app design to Android because simply won't fit in the larger ecosystem. Like it or not, you might need to completely redesign the app using native Android components.
2. Mind the variety
As mentioned earlier, one of the key reasons most applications debut on iOS is its hardware uniformity. There are at most half a dozen devices with almost each of them running the same iOS version. That is not the case with Android. There are hundreds of Android smartphones on the market with varying specifications running on at least 3-4 major Android versions. That is why when you port your application to Android, you must keep this diversity in mind and have extensive test plans at hand.
Yes, you can choose to ignore older devices or Android versions with smaller userbase but still, you'd be left with at least dozens of handsets you would need to optimize your app for.
3. Reorient Navigation
Since iPhones have only a home button (even that is being phased out in latest handsets) the applications need to have navigation buttons built into them. But Android, on the other hand, has three buttons- home, back, and multitasking. This means all navigation buttons built into iOS apps become redundant when ported to Android. So basically you have two options- either just remove all the in-app navigation controls or build a fresh user flow from scratch.
4. Rethink permissions
Device access and data permissions work differently on iOS as compared to Android. While applications on iOS are largely shunned from collecting personal information, Android is rather open in this regard. This presents developers with opportunities to add new features while converting iOS apps to Android. That said, Google has recently changed many policies that you must carefully look into before posting your app.
5. Manage coding differences
iOS apps are written in Swift or Objective-C while those of Android apps use Java or Kotlin. You can either choose to completely rewrite the code or go hybrid. Now this something that depends entirely on what kind of an app you have and what you intend to achieve. The only thing we can suggest is that you must have a detailed discussion with your developers before taking the final call.
Closing remarks
Given the sheer diversity of handsets, building an app for Android arguably remains more challenging and thus porting Android to iOS is rather simpler than the other way around. That said, if you hire Android developers with ample expertise, your iOS can easily be ported to Android in a matter of weeks. But more important is how you approach the subject- instead of considering it as a mere copy-paste of your app from one platform to another, it should be taken up as an opportunity to reinvent your app experience to match the new ecosystem.
About Vipin Jain
Vipin Jain
(CEO / Founder of Konstant Infosolutions Pvt. Ltd.)
Mobile App Provider
(A Division of Konstant Infosolutions Pvt. Ltd.) has an exceptional team of highly experienced & dedicated mobile application and mobile website developers, business analysts and service personnels, effectively translating your business goals into a technical specification and online strategy.
Read More
View all posts by Vipin Jain
Recent Posts
Archives
Categories