Secure Mobile App Development: Techniques you should know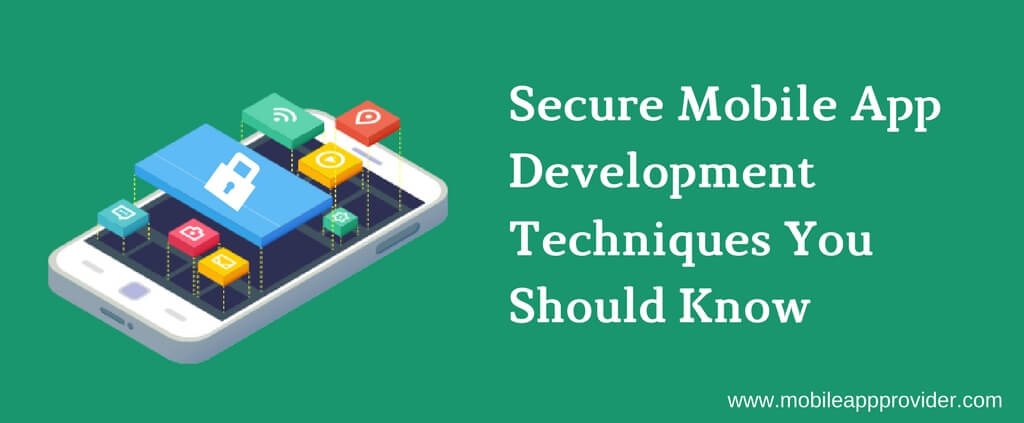 We have entered the times when we have achieved and reached certain standards of practices and processes that contribute to transform our ideas into resource-driven powerful mobile apps. These app development processes and propositions keep advancing in their functional dynamics to allow you authentic solution that meets your business needs effectively and resourcefully.
This makes you achieve a better value and higher compliance in terms of product features, communication facility, technical traits and user interaction. With this it covers everything and takes in all to contribute to advanced needs of the new-age businesses. But something that really needs to be attentively catered on a regular basis is the need for app security.
This is because there are incessantly generated threats and erupting risks in the online space that keep the applications' vulnerability to hack attacks high and make them prone to damage and deterioration.
To get rid of getting into any compromising situation you can go with these security practices while developing your mobile app:
Utilize Secure Mobile App Development Options
The businesses that go with opensource development options mostly aim at budget and quick solutions. In the attempt of achieving a comparatively cheaper app solution they choose to go with a higher risk of online threats. If they do not go with proper remedial options or apply proper governance policies the attempt could cost them lethal security breaches. Considering that, it's highly advisable to go with core development options or otherwise use secure open source components to avoid such situations.
Secure the App Code
The code of the mobile app should be protected with the help of encryption. While doing this it is advised to write the code in a way that it is tough to read and crack by malign forces. So that they cannot misuse it for any malignant purposes. Here, you can go with code obfuscation as a measure. Adding to the security, you can use algorithms along with API encryption. Further, with the help of source code scanning you get to deal with vulnerabilities even better.
Include SSL and HTTPS as Security Measure
While you approach installation, and are all set to launch your product go with Secure Socket Layer security allowing encrypted communication between clients and servers. With this security measure, you can put up with higher value of security and will be at least risk of being challenged by hacking activities.
Password Controls
To be able to make it even tougher to crack, you can go with advanced password authentication options. Appoint the controls that demand complex password inputs and multi-part authentication criteria. Biometric recognition can further add to the density of password controls and make your accounts and accessibility options hard to crash.
Application Layer Security
You can ask your mobile app developer to add a security setting option for users allowing them to add their own layer of security to the application as per their preference. This could be best approached by allowing them multi-tier customization options to application layer security.
Mitigating Third-party Security Risk
The risk of security threat is not completely gone till the time you have not addressed the possible third-party risk issues. To prevent these, you need to create and sporadically review SLAs and NDAs and keep them updated as per the latest security guidelines. Apart from this you can work on options to allow you to communicate threats to the third-party channels to allow you a better control over security propositions.
Final Words
Security is certainly one of the most important aspects of mobile app development and you need to address it at all levels and from all perspectives to have a perfect product with you. Going with these practices and techniques should help you a great deal in meeting your purpose of app security.
About Vipin Jain
Vipin Jain
(CEO / Founder of Konstant Infosolutions Pvt. Ltd.)
Mobile App Provider
(A Division of Konstant Infosolutions Pvt. Ltd.) has an exceptional team of highly experienced & dedicated mobile application and mobile website developers, business analysts and service personnels, effectively translating your business goals into a technical specification and online strategy.
Read More
View all posts by Vipin Jain
Recent Posts
Archives
Categories