AngularJS for Web and Mobile: Here are the Top Frameworks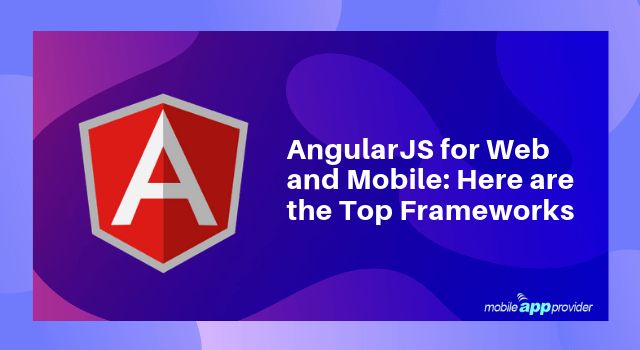 It is interesting how technology and the tools to build them are mutually interdependent. How a seemingly powerful tool forms the base for dozens of smaller but precise tools. Like Angular- we know for a fact that it is one of the best frontend development frameworks but what we often overlook is that it forms the base of many other frameworks as well. That is, if you wish to use the power of AngularJS, you don't necessarily need to use Angular as there are numerous other AngularJS frameworks that deliver the same functionality and much more. Here are just a few of them:
Ionic
Now, this is a framework you must already have heard owing to its immense popularity in recent years. Used to build UI for both web and mobile applications, it comes with a whole range of on-top features that makes this framework worthwhile for developers. The open source framework consists of a large library and supports virtually every third-party modules that you might want to use in your application.
Mobile AngularUI
As the same suggests, this framework is used to build exclusively mobile apps through Angular. The framework works on the philosophy of "AngularJS everywhere" and uses Angular directives for most of the tasks. All you would need is this framework and Bootstrap to build a full-scale mobile app.
LumX
Built on the guidelines of Google's Material Design and with SaaS and Bourbon, LumX delivers seamless design experience and even automatically optimizes the JS to improve performance. Along with the power of Angular, it also relies on a bit of jQuery to improve the overall performance of the application.
QuantumUI
Quantum is a lightweight mobile-friendly AngularJS framework that uses Bootstrap and CSS-based components to build the frontend of both web and mobile applications. Having a large number of in-built mobile components, plugins, and support for numerous third-party libraries, it can be transformed into a very powerful to build applications at scale.
Supersonic
If you are out to build hybrid mobile apps using AngularJS, Supersonic is perhaps the most exhaustive and feature-rich framework that you would find. While the framework is built with a hybrid-first approach, it is well suited to build both single page and multiple page applications. Built to support modular development through MVC architecture, Supersonic is an extremely stable framework that can easily manage applications of all scales.
Mean.io
MEAN (Mongo DB, Express Angular, NodeJS) is one of the most popular technology stacks for building applications and as it turns out is also one of the best AngularJS frameworks. Given the set of powerful technologies, it can create numerous useful modules and even integrate tons of third-party libraries given their immense collective popularity.
Radian
Radian is considered one of the best AngularJS frameworks for distributed and quick development environments. Owing to its Asynchronous Module Definitions, it allows cross-functional and cross-spatial teams to seamlessly collaborate on a project without causing dependency risks. It also supports a large number of third-party libraries and modules to enhance overall productivity.
Suave UI
Last but definitely not the least on our list is Suave UI. It is used to build UI for web applications and comes bundled with CSS definitions, directives and services. The framework is really lightweight and has ample inbuilt UI components to build rich UI. The only downside perhaps is that it's limited to web applications only and can be used for mobile app development.
Closing remarks
As the domain of web application development expands in scope and complexity, developers increasingly look for new tools and technologies to boost their productivity by the same degree. And the convenience to use the power of AngularJS within from any microframework is a truly liberating experience.
About Vipin Jain
Vipin Jain
(CEO / Founder of Konstant Infosolutions Pvt. Ltd.)
Mobile App Provider
(A Division of Konstant Infosolutions Pvt. Ltd.) has an exceptional team of highly experienced & dedicated mobile application and mobile website developers, business analysts and service personnels, effectively translating your business goals into a technical specification and online strategy.
Read More
View all posts by Vipin Jain
Recent Posts
Archives
Categories