Why and How to Integrate Uber API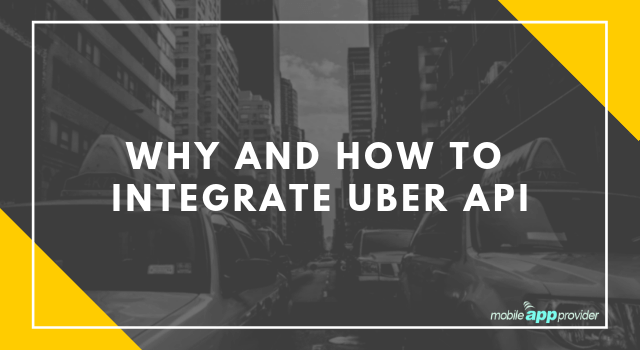 Mobile apps are easily one of the most decentralized markets in the world. Anyone with decent technical skills or financial resources can build an app and try their luck in the market. In fact, many developers and business have made a fortune doing just that. But like it or not, they face a glass ceiling. There is simply no way that a developer or even a business with reasonable resources can build an app like Uber or even Google Maps and operate it at scale.
But there is another way- integrate them to your own app! Uber has recently released its API that app owners can use in their app. This has two obvious benefits:
It would be a source income– Uber pays you an amount for each user you send their way.
It would enhance user engagement – Booking Uber rides is a highly valuable feature for which users would often log in to your app
Now to put things in perspective, this is perhaps the best way to reap the benefits of the taxi-hailing market without having to suffer any of its downsides.
You don't have to spend possibly hundreds of thousands of dollars to build your own Uber-like app but instead can make your existing app work like Uber.
You don't have to negotiate with driver partners, lobby to get all those permits and enter into complex contracts.
If you don't already know, Uber still losses billions of dollars annually. Unless you have such deep pockets, the smarter way would be to join them where they suffer all the loses while you are guaranteed your income.
Even the hosting and maintenance of such apps run into millions- something you don't have to worry about and can use their infrastructure for free.
Finally, you create real tangible value for your users. No matter what your existing app does, humans have to move around and your users would really appreciate having that feature right within the app.
For its part, Uber offers a wide range of options to businesses for them to decide the level of integration:
Button
This is the easiest way to integrate Uber into your app that places a Request Ride button into your app. It displays estimated fare and ETA and tapping on it takes users to Uber app. It provides zero customization but also requires very low development efforts.
Deeplink
It can be used to launch Uber app from within your app with pre-specified pickup and drop destinations. It allows some level of customization and requires very low development efforts.
Client libraries
If you want full customization capabilities and are ready to spare some development efforts, you can use Uber's SDK available in multiple languages like iOS, Android, Python, and Java to create your custom end-to-end user experience.
Rest APIs
If you are looking to work on some other language, you can use Uber's Rest APIs for full control. Though this option offers a high level of customization options, it also requires expert-level development efforts and may have to hire app developers.
Webhooks
This is the ultimate option to create an authentic app like Uber that lets you integrate direly to rider's and driver's experience with reactive webhooks. Again, this requires expert-level development efforts.
Closing remarks
One of the golden rules of business is that if you can't beat them, join them. Uber, being one of the largest corporations on the planet definitely falls into the second category. Now if you are worried about the initial cost of integration, there are some offshore markets like the app developers in India who are known to deliver quality solutions at reasonable rates.
About Vipin Jain
Vipin Jain
(CEO / Founder of Konstant Infosolutions Pvt. Ltd.)
Mobile App Provider
(A Division of Konstant Infosolutions Pvt. Ltd.) has an exceptional team of highly experienced & dedicated mobile application and mobile website developers, business analysts and service personnels, effectively translating your business goals into a technical specification and online strategy.
Read More
View all posts by Vipin Jain
Recent Posts
Archives
Categories