Why Consider Swift for Enterprise App Development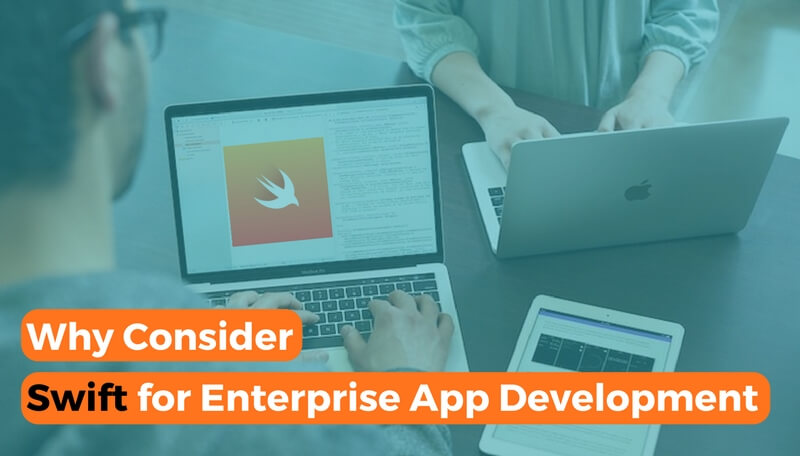 The routine procedures followed by businesses for the accomplishment of their tasks have undergone a major revision. Thanks to the advent of mobile apps. The modulation in practices has enabled mobile app developers to work smarter and achieve desired outcomes faster.
The modernization brought in the existing programming paradigm has helped companies to multiply their revenues and achieve a better level of customer satisfaction. Swift is one such programming language, which we suggest is responsible for this transformation and betterment of procedures followed by enterprises for developing applications.
Developed by Apple Inc., Swift has revolutionized the way mobile app developers work globally satisfying their enterprise app development urges. The old school tactics have made way for advanced mechanisms. Leading mobile app developers have been treated with new methods and advanced ways of doing work, which certainly has helped them in building game-changing enterprise mobile applications.
With time, businesses have realized the true worth of Swift in enterprise app development and have switched ways to developing apps that offer better user experience and are built faster than ever.
Scope of Swift programming language
Swift is a powerful multi-paradigm programming language for developing mobile apps. It is open-source and readily available to developers for creating applications. After its successful few years and vast adoption, Swift is now a go-to language for novices as well as for experienced Indian app developers. The prime reason for the same is its extensive capability portfolio and sense of reliance that is added to app developers' lives. Plus, it is fun to work with- as suggested by some popular developers and Apple's CEO, Tim Cook. He has also regarded it as the 'next big programming language'.
Top reasons why you should consider Swift for enterprise app development
The need of the hour is to develop enterprise apps that are intuitive, interactive and aesthetically appealing. Embracing app with each quality requires significant effort from the mobile app developers. Plus, the rate at which the techniques and tools are evolving, it becomes even more important for companies to produce apps quickly because upgrades will demand changes in the developed app that adds further to the development cost.
Swift is the answer to all your development woes. It not only makes deploying of functional elements easy but significantly reduces the amount of time to build the application. Which further reduces the workload and streamline business operations. No wonder why more and more businesses are turning up to Swift for developing mobile apps.
Here's a quick rundown of reasons supporting the development of enterprise apps using Swift as the programming language.
With its innovative approach to app development, it gives developers a sigh of relief and liberty to play around with the code that yields instant results. The comprehensive development documentation enables them to learn the criticalities of the language and proceed as intended. Besides, the mobile app developers can also send their version of feedback to the team working at Apple Inc., for improvements and rectifications (if any).
The code written in Swift is easy-to-comprehend for both beginners as well as for experienced developers. Any bugs can be identified in a flash, which can be passed on to the development team for rectification. The syntax is clean and understandable making it easier for the existing Java, JavaScript, Python, C# and C++ programmers.
Apple developers have worked upon its processing speed during its development years. And it has been found that Swift performs the tasks 3.9x faster than Python and 2.8x faster than Objective-C.
The efforts put in by developers while working in Swift is half than in case of Objective-C. Developing an app in Swift is more of fun than stress. Thanks to its futuristic approach, which does not ask developers to write those lengthy codes. The code is short, precise and smart. There is inline support for string and data manipulation. Like if you want to add two strings, you just need to include '+' between two strings.
Code compilation is unavoidable and every time a new set of code is written, it requires a server, hardware and other safety tools for the compiling process to take place. Swift does it on the go. This means you save hardware cost and your code gets executed inside a safe environment by default.
Backed by the tech behemoth and supported by proficient experts, Swift is readily available to all   regardless of your location, experience and expertise. No wonder why it is superseding the prominent Objective-C.
Final thoughts
Swift is the future of iOS programming, and developers around the globe are using it for creating unbelievable mobile experiences. It is one of the fastest growing languages in the history of development, offering a range of concepts and practices to modern app developers in India and abroad. Times have changed, and it is important that you change as well. Bank on Swift capabilities and build enterprise apps like never.
About Vipin Jain
Vipin Jain
(CEO / Founder of Konstant Infosolutions Pvt. Ltd.)
Mobile App Provider
(A Division of Konstant Infosolutions Pvt. Ltd.) has an exceptional team of highly experienced & dedicated mobile application and mobile website developers, business analysts and service personnels, effectively translating your business goals into a technical specification and online strategy.
Read More
View all posts by Vipin Jain
Recent Posts
Archives
Categories