How Small Businesses Can Improve Mobile App Stability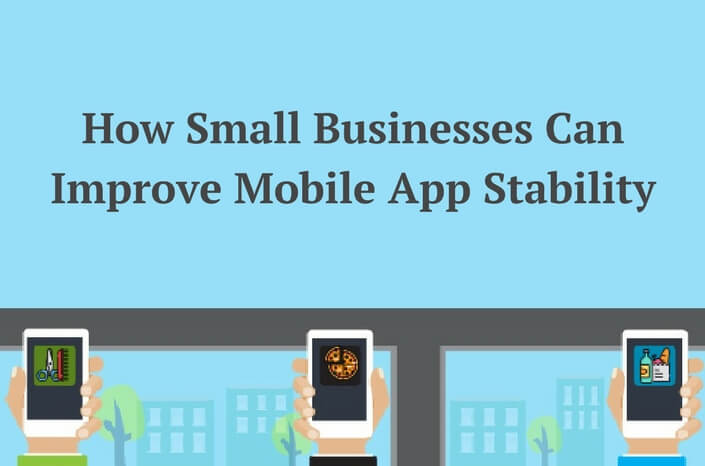 On an average, Android users have around 95 applications installed on their phone, of which they use around 35 apps per day. This figure calculates to around 28 for iPhone users. Another report tells us that an average user spends around 3 hours per day on mobile apps. And we all know that applications like Facebook and YouTube consume the majority of user's time while others have to compete for their survival.
In order to persuade your target audience to install your app is one thing but to extract proportional engagement is entirely another. This becomes even more essential for small businesses because they may not have enough resources to afford a second chance if they commit any major mistake in the first. And out of many mistakes that they can possibly commit, undermining the stability of their app is perhaps the biggest one. Because when a user already distracted by 94 other apps finally decides to launch your application and it crashes, there is a good chance that he/she won't ever come back.
So, let's take a look at how you can minimize, if not eliminate that risk
1.Test the performance
While generally apps are tested for usability, i.e., the tasks that are expected of them, you must also keep a closer eye on how fast they perform. To test on various benchmarks, emulators give a clue on how fast the app will perform, but that is simply not enough to gauge the real-world performance. The only way to test apps for real-world performance is to test them in real-time conditions- on a variety of hardware configurations, network conditions, user behavior and more.
2.User Interface
For the most part, the user interface of an app is associated with the user experience but it also plays a role in the stability of an app. There are times when the app fails to respond to any specific screen size, sometimes a component of it freezes, resulting in either crash or forced termination. So, as much as it is essential to keep the interface appealing, it is equally important that they are intensively tested for all screen sizes and each component is properly vetted before deployment.
Also Read: What Mobile App Development Can Gain from Model-Driven Approach
3.Third-party components
With such high complexity, it is simply not possible these days to develop every component of your app yourself. More often than not, mobile app developers deploy third-party components for specific features like payment integration, map support, among others. And while the components from reliable sources are known to be of high quality and stable, if your app employs too many of them, there is a good chance that at least some of them won't work, bringing down your app.
So, as much as it is important to test your own developed code, you should also dedicate a fair amount of time over third-party components and integrate them only after they pass certain stability tests.
How do you implement such actions?
The simplest thing to do would be is to opt for automated testing that duly tests the features and performance of your app. While that saves a lot of time, they can't guarantee perfect testing. For that, top app developers are known to trust only ''Unit Testing.' Yes, it consumes developer's time and effort, but the final outcome is worth it.
To minimize the time and effort you spend on testing, you can take a detailed survey of Playstore and App Store and aggregate user's review on different apps of your category. This will give you a clear idea of where most of the users have faced bugs and what appeals to them the most. Using such information, you can target your limited resources into perfecting those specific aspects of your app.
Also Read: Secure Mobile App Development: Techniques you should know
About Vipin Jain
Vipin Jain
(CEO / Founder of Konstant Infosolutions Pvt. Ltd.)
Mobile App Provider
(A Division of Konstant Infosolutions Pvt. Ltd.) has an exceptional team of highly experienced & dedicated mobile application and mobile website developers, business analysts and service personnels, effectively translating your business goals into a technical specification and online strategy.
Read More
View all posts by Vipin Jain
Recent Posts
Archives
Categories